Carports in Alabama AL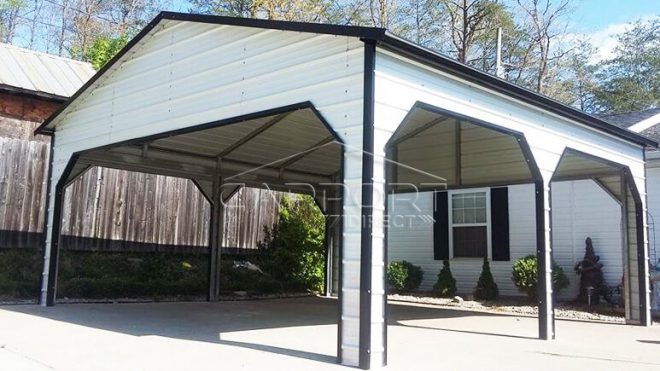 With copious amounts of rainfall each year, Alabama is one of the wettest states in the southeastern US. Hot and humid Alabama weather is accompanied by severe thunderstorms, lighting, hail, and tornadoes. Besides Oklahoma, Alabama actually has the most reported EF-5 tornadoes of any state. These tornadoes have caused many deaths and have resulted in property damage of a massive scale.
Protecting your property from unpredictable weather is something of which you always want to be mindful. External self-storage units are not the solution; you're paying for storage you don't actually own! If you have your own land, it really makes more sense to install your own metal carport. And why not, when Carport Direct makes it even easier with unbeatable carport financing options?
Remember that if you can imagine it, we can build it! Take a moment and check out our online gallery of carports we've installed, including various designs, roof styles, and dimensions of all sizes. If you need a taller unit, we can go up to 20 feet in height. Need something wider? We can go as wide as 70 feet (or even longer if you add lean-tos!). We'll also give you tips about how to obtain local permits in your area.
BUY THE BEST
METAL CARPORTS ALABAMA
Metal Carport Prices Alabama
Our carport prices are already extremely competitive, but we will also price-match quotes from other providers on like buildings! What else makes us different? We can get you your Alabama carport quickly; we work with only the best local and regional manufacturers, and our lead times are some of the best in the entire carport industry.
Alabama Carports by Carport Direct
It's not just homeowners who are affected by the weather, either. Business owners in Alabama who contribute to the economy of this magnificent state have also seen unpredictable weather affect their production and storage. Carport Direct is proud to work with farmers, other agricultural businesses, automotive suppliers, mechanics, poultry and livestock handlers, steel companies, refining companies, and those in the construction industry to provide robust solutions for their production and storage needs. We source big agricultural barns, cattle sheds, riding arenas, workshop buildings, metal barns, warehouses, residential-style garages, RV and motorhome covers, and many other custom metal buildings for business owners in Alabama. Our steel carports in Alabama give your car, truck, boat, motorhome, farm equipment, cattle, livestock, horses and other valuables the perfect protection from sun, rain, hail, wind, AND even the occasional snow! We know you have a lot invested in your cars, trucks, RVs, boats, and other valued items. It's time you worked with a company that shares your passions and cares about you and about helping you take the best care of all that you own.
Why you should buy a carport from Carport Direct in AL?
We provide only top-quality carports from preferred manufacturers, and we can give you advice about pulling any necessary permits.
We offer some of the most competitive prices in the carport business, AND we price match on like buildings.
We offer the best customer support in Alabama!
If you live in AL and have heard some other carport salesman's jibe, don't worry – that's not how we operate! Carport Direct offers a complete self-service tool online, with the ability for you to easily design your OWN custom carport.
Alabama Carports from Carport Direct provide great protection for your cars and trucks, but that's not all we do. We also provide many great barns, garages, workshops, and other custom metal buildings that are available anywhere in AL. You can customize your carport any way you want by choosing your color, extending the height, adding gables or extended gables, closing the sides or ends, or by choosing a fully-enclosed metal garage from Carport Direct. Our fully-enclosed metal buildings can help reduce your cost of vehicle ownership by adding even more secure protection. Your vehicle repair and maintenance bills are much less frequent when you choose a structure from Carport Direct in Alabama. Like we said, Carport Direct offers more than just carports. Need a barn or other building wider than 30'? Not a problem! Our commercial metal buildings in AL can span a width of up to 70 feet (and longer if you add lean-tos), offering you plenty of clear-span space for any of your Alabama warehouse or workshop needs. One of our newer styles is a metal barn lean-to building, which can be built with various widths, and in lengths starting at 21 feet and going all the way up to 300 feet!
Our Service Areas in Alabama
Our Alabama carport and other products pricing are valid for the entire state of Alabama, which includes Alabaster, AL, Albertville, AL, Alexander City, AL, Anniston, AL, Athens, AL, Auburn, AL, Bessimer, AL, Birmingham, AL, Cullman, AL, Decatur, AL, Dothan, AL, Enterprise, AL, Fairhope, AL, Florence, AL, Gadsden, AL, Helena, AL, Homewood, AL, Hueytown, AL, Huntsville, AL, Madison, AL, Millbrook, AL, mobile, AL, Montgomery, AL, Mountain Brook, AL, Northport, AL, Opelika, AL, Oxford, AL, Phenix City, AL, Prattville, AL, Pritchard, AL, Scottsboro, AL, Talladega, AL, Tillmans Corner, AL, Troy, AL, Trussville, AL, Tuscaloosa, AL, Vestavia Hills, AL, and everywhere in between across The Cotton State! For permitting and building requirement questions specific to your county, the following is a list of Alabama counties and their corresponding county seats. For links to these county and city websites in Alabama, visit State and Local Governments on the Net.
Autauga County – Prattville
Baldwin County – Bay Minette
Barbour County – Clayton
Bibb County – Centreville
Blount County – Oneonta
Bullock County – Union Springs
Butler County – Greenville
Calhoun County – Anniston
Chambers County – Lafayette
Cherokee County – Centre
Chilton County – Clanton
Choctaw County – Butler
Clarke County – Grove Hill
Clay County – Ashland
Cleburne County – Heflin
Coffee County – Elba
Colbert County – Tuscumbia
Conecuh County – Evergreen
Coosa County – Rockford
Covington County – Andalusia
Crenshaw County – Luverne
Cullman County – Cullman
Dale County – Ozark
Dallas County – Selma
DeKalb County – Fort Payne
Elmore County – Wetumpka
Escambia County – Brewton
Etowah County – Gadsden
Fayette County – Fayette
Franklin County – Russellville
Geneva County – Geneva
Greene County – Eutaw
Hale County – Greensboro
Henry County – Abbeville
Houston County – Dothan
Jackson County – Scottsboro
Jefferson County – Birmingham
Lamar County – Vernon
Lauderdale County – Florence
Lawrence County – Moulton
Lee County – Opelika
Limestone County – Athens
Lowndes County – Hayneville
Macon County – Tuskegee
Madison County – Huntsville
Marengo County – Linden
Marion County – Hamilton
Marshall County – Guntersville
Mobile County – Mobile
Monroe County – Monroeville
Montgomery County – Montgomery
Morgan County – Decatur
Perry County – Marion
Pickens County – Carrollton
Pike County – Troy
Randolph County – Wedowee
Russell County – Phenix City
St. Clair County – Ashville and Pell City
Shelby County – Columbiana
Sumter County – Livingston
Talladega County – Talladega
Tallapoosa County – Dadeville
Tuscaloosa County – Tuscaloosa
Walker County – Jasper
Washington County – Chatom
Wilcox County – Camden
Winston County – Double Springs