Carports in Maryland MD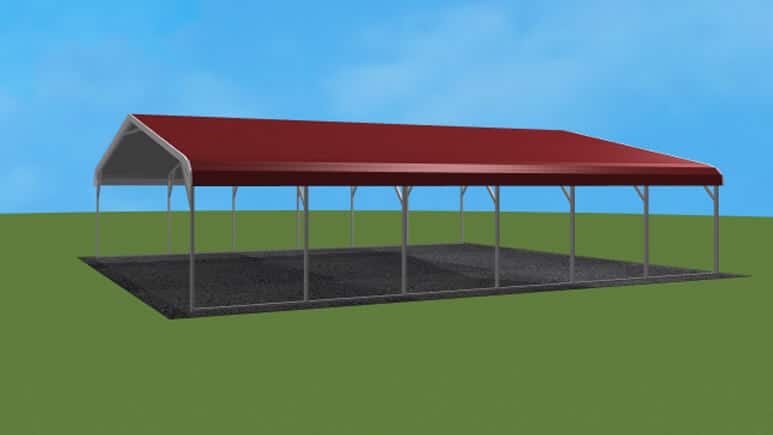 Defined by its lavish waterways and coastlines along the Chesapeake Bay and Atlantic Ocean, Maryland is both a beautiful state to visit and live in. And with so many outdoor adventures to take part in, it's important that you keep your property safe with a reliable source of protection.
BUY THE BEST
METAL CARPORTS MARYLAND
Applications for Steel Carports in Maryland
Despite popular belief, carports are no longer being used to shelter vehicles and equipment from Mother Nature and her brutal forces. Rather, they have a much wider variety of useful accommodations to take into consideration. You can take a look at some of these alternatives below:
Boat Cover
RV Cover
Equipment Shelter
Greenhouse
Storage Unit
Design Your Very Own Maryland Prefab Metal Carport
In addition to choosing how you'll use your custom steel carport in Maryland, you can also choose how it will look with our unique 3D Building Estimator. With this online tool, you can choose from our variety of customization options, apply them to the correct component, and watch your dream structure come to life. You can check out a select few of our many customizations below:
Roof Styles
Size Dimensions
Foundations
Colors
Gauge of Frame
If you would like to know more about our available features, feel free to reach our sales department today at (336) 415-3616. Or if you prefer to get started designing your ideal storage solution, use our unique 3D Estimator.
Financing Options at Carport Direct
Whether you're a cash-conscious customer who doesn't like to spend excessive amounts of money or if you're simply limited to a tight budget, we understand how difficult it can be to invest in your ideal carport when facing financial obstacles. This is why we offer two of the best rent-to-own and financing programs in the metal building industry. Both plans are easy and stress-free with application forms located on our website.
Protecting your vehicles, equipment, and other belongings from varying weather conditions in Maryland can be difficult when you don't have the proper source of protection. But with a prefab metal carport from Carport Direct, you'll never have to worry about making repairs or replacements again! These durable structures are built to stand tall through harsh weather conditions and protect your property at all costs. You can speak with one of our building representatives by calling us today at (336) 415-3616.
Our Service Areas in Maryland MD
Our Maryland carport prices are good for the entire state of Maryland, which includes
Aberdeen
Aberdeen Proving Ground
Accident
Accokeek
Adelphi
Algonquin
Andrews AFB
Annapolis
Arbutus
Arden-on-the-Severn
Arnold
Ashton-Sandy Spring
Aspen Hill
Ballenger Creek
Baltimore
Barclay
Barnesville
Barton
Bel Air
Bel Air North
Bel Air South
Beltsville
Bennsville
Berlin
Berwyn Heights
Bethesda
Betterton
Bladensburg
Boonsboro
Bowie
Bowleys Quarters
Braddock Heights
Brandywine
Brentwood
Brookeville
Brooklyn Park
Brookmont
Brookview
Brunswick
Bryans Road
Burkittsville
Burtonsville
Cabin John
California
Calvert Beach-Long Beach
Calverton
Cambridge
Camp Springs
Cape St. Claire
Capitol Heights
Carmody Hills-Pepper Mill Village
Carney
Catonsville
Cavetown
Cecilton
Centreville
Chance
Charlestown
Charlotte Hall
Chesapeake Beach
Chesapeake City
Chesapeake Ranch Estates-Drum Point
Chester
Chestertown
Cheverly
Chevy Chase
Chevy Chase
Chevy Chase Section Five village
Chevy Chase Section Three village
Chevy Chase View
Chevy Chase Village
Chewsville
Chillum
Church Creek
Church Hill
Clarksburg
Clear Spring
Clinton
Clover Hill
Cloverly
Cockeysville
Colesville
College Park
Colmar Manor
Columbia
Coral Hills
Cordova
Cottage City
Cresaptown-Bel Air
Crisfield
Crofton
Crownsville
Cumberland
Damascus
Dames Quarter
Darnestown
Deale
Deal Island
Deer Park
Delmar
Denton
Discovery-Spring Garden
District Heights
Dundalk
Dunkirk
Eagle Harbor
East New Market
Easton
East Riverdale
Eden
Edgemere
Edgewood
Edmonston
Eldersburg
Eldorado
Elkridge
Elkton
Ellicott City
Emmitsburg
Essex
Fairland
Fairmount
Fairmount Heights
Fallston
Federalsburg
Ferndale
Forest Glen
Forest Heights
Forestville
Fort Meade
Fort Ritchie
Fort Washington
Fountainhead-Orchard Hills
Frederick
Frenchtown-Rumbly
Friendly
Friendship Village
Friendsville
Frostburg
Fruitland
Funkstown
Gaithersburg
Galena
Galestown
Garrett Park
Garrison
Germantown
Girdletree
Glenarden
Glen Burnie
Glen Echo
Glenn Dale
Goddard
Golden Beach
Goldsboro
Grantsville
Grasonville
Greater Landover
Greater Upper Marlboro
Greenbelt
Green Haven
Greensboro
Green Valley
Hagerstown
Halfway
Hampstead
Hampton
Hancock
Havre de Grace
Hebron
Henderson
Herald Harbor
Highfield-Cascade
Highland Beach
Hillandale
Hillcrest Heights
Hillsboro
Hillsmere Shores
Hughesville
Huntingtown
Hurlock
Hyattsville
Indian Head
Jarrettsville
Jessup
Joppatowne
Keedysville
Kemp Mill
Kensington
Kent Narrows
Kettering
Kingstown
Kingsville
Kitzmiller
Lake Arbor
Lake Shore
Landover Hills
Langley Park
Lanham-Seabrook
Lansdowne-Baltimore Highlands
La Plata
Largo
Laurel
La Vale
Laytonsville
Leitersburg
Leonardtown
Lexington Park
Linganore-Bartonsville
Linthicum
Lochearn
Loch Lynn Heights
Lonaconing
Londontowne
Luke
Lusby
Lutherville-Timonium
Manchester
Mardela Springs
Marlow Heights
Marlton
Martin's Additions village
Marydel
Maryland City
Maugansville
Mayo
Mays Chapel
Middle River
Middletown
Midland
Milford Mill
Millington
Mitchellville
Montgomery Village
Morningside
Mount Aetna
Mountain Lake Park
Mount Airy
Mount Lena
Mount Rainier
Mount Vernon
Myersville
Naval Academy
Newark
New Carrollton
New Market
New Windsor
North Beach
North Bethesda
North Brentwood
North Chevy Chase village
North East
North Kensington
North Laurel
North Potomac
Oakland
Ocean City
Ocean Pines
Odenton
Olney
Overlea
Owings
Owings Mills
Oxford
Oxon Hill-Glassmanor
Paramount-Long Meadow
Parkville
Parole
Pasadena
Perry Hall
Perryman
Perryville
Pikesville
Pittsville
Pleasant Hills
Pocomoke City
Poolesville
Port Deposit
Port Tobacco Village
Potomac
Potomac Heights
Preston
Prince Frederick
Princess Anne
Pumphrey
Queen Anne
Queenstown
Randallstown
Redland
Reisterstown
Ridgely
Rising Sun
Riva
Riverdale Park
Riverside
Riviera Beach
Robinwood
Rock Hall
Rockville
Rohrersville
Rosaryville
Rosedale
Rosemont village
Rossmoor
Rossville
St. Charles
St. James
St. Leonard
St. Michaels
Salisbury
San Mar
Savage-Guilford
Seat Pleasant
Secretary
Selby-on-the-Bay
Severn
Severna Park
Shady Side
Sharpsburg
Sharptown
Silver Spring
Smith Island
Smithsburg
Snow Hill
Solomons
Somerset
South Gate
South Kensington
South Laurel
Springdale
Stevensville
Stockton
Sudlersville
Suitland-Silver Hill
Sykesville
Takoma Park
Taneytown
Temple Hills
Templeville
Thurmont
Tilghman Island
Towson
Trappe
Travilah
Union Bridge
University Park
Upper Marlboro
Vienna
Waldorf
Walker Mill
Walkersville
Washington Grove
Westernport
West Laurel
Westminster
West Ocean City
West Pocomoke
Whaleyville
Wheaton-Glenmont
White Marsh
White Oak
Willards
Williamsport
Wilson-Conococheague
Woodlawn CDP (Baltimore County)
Woodlawn CDP (Prince George's County)
Woodmore
Woodsboro
and every place in between across the Old Line State!