Carports in Massachusetts MA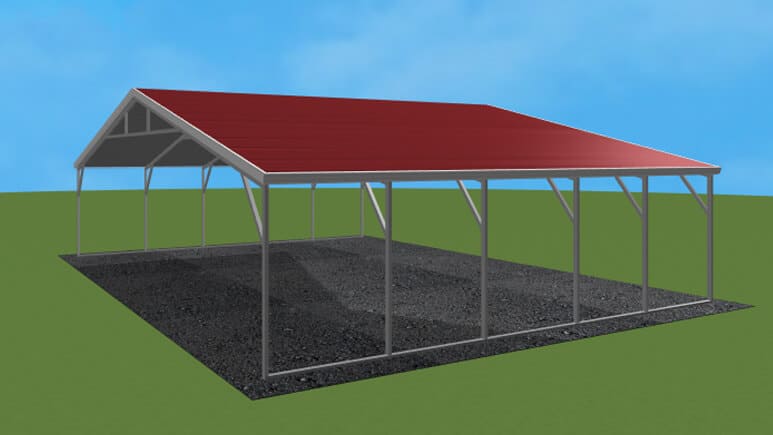 Keeping your vehicles, valuable equipment, and other belongings safe throughout the year is always something to be mindful of. And here at Carport Direct, we have just the answer you need to fulfill your every need, no matter what they may be. Our Massachusetts steel carports are the most durable, reliable, and cost-effective solution offered today.
BUY THE BEST
METAL CARPORTS MASSACHUSETTS
Day-to-Day Applications for Prefab Metal Carports in Massachusetts
Your reasons for investing in a metal carport in Massachusetts are uniquely your own and here at Carport Direct, we respect that. But with these unique reasons comes unique applications. Whether you're looking for a personal, residential, or agricultural steel building, one of our steel carports can do it all. A few of their unique applications include the following options:
Animal Shelter
Watercraft Coverage
Greenhouse
Equipment Storage
Outdoor Workspace
Customize Your Dream Steel Carport

Having the ability to design and customize the layout of your Massachusetts carport is a luxury that isn't offered by many companies in the metal building industry. However, here at Carport Direct, it's one of the many bonuses you'll experience when partnering with us. We give you access to our online 3D Building Estimator, an online tool that allows you to customize every aspect of your steel carport and see the final product before spending any of your money. From its roof style, to its foundation, you can add a personal touch to every aspect of your new storage unit.
Payment Options at Carport Direct
Although we offer some of the most affordable prices here at Carport Direct, that doesn't mean you don't need a little financial assistance to get the storage space you so desperately need. We understand how difficult it can be to spend such a significant amount of your hard-earned money, which is why we provide two of the easiest, stress-free payment plans in the industry. Our rent-to-own and financing programs allow you to get the steel carport you need, when you need it, for a price you can afford. You can find more information about these programs online along with their applications.
Living in the Bay State can be exciting and adventurous, but with such varying weather conditions, it's important that you keep the condition of your vehicles and equipment in mind. When left exposed, Mother Nature can cause serious damages to your property, some that require an excessive amount of money. But with a prefab metal carport in Massachusetts, you'll never have to worry about spending more money than needed. Just give us a call today at (336) 415-3616 to speak with one of our friendly, knowledgeable building specialists.
Our Service Areas in Massachusetts MA
Our Massachusetts carport prices are good for the entire state of Massachusetts, which includes
Abington
Acushnet Center
Adams
Agawam
Amesbury
Amherst Center
Andover
Arlington
Athol
Attleboro
Ayer
Baldwinville
Barnstable Town
Barre
Belchertown
Bellingham
Belmont
Beverly
Bliss Corner
Bondsville
Boston
Bourne
Boxford
Braintree
Brewster
Bridgewater
Brockton
Brookline
Burlington
Buzzards Bay
Cambridge
Chatham
Chelsea
Chicopee
Clinton
Cochituate
Cordaville
Danvers
Dedham
Dennis
Dennis Port
Dover
Duxbury
East Brookfield
East Dennis
East Douglas
East Falmouth
Easthampton
East Harwich
East Pepperell
East Sandwich
Essex
Everett
Fall River
Falmouth
Fiskdale
Fitchburg
Forestdale
Fort Devens
Foxborough
Framingham
Franklin
Gardner
Gloucester
Granby
Great Barrington
Greenfield
Green Harbor-Cedar Crest
Groton
Hanson
Harwich Center
Harwich Port
Hatfield
Haverhill
Hingham
Holbrook
Holland
Holyoke
Hopedale
Hopkinton
Housatonic
Hudson
Hull
Ipswich
Kingston
Lawrence
Lee
Lenox
Leominster
Lexington
Littleton Common
Longmeadow
Lowell
Lunenburg
Lynn
Lynnfield
Malden
Mansfield Center
Marblehead
Marion Center
Marlborough
Marshfield
Marshfield Hills
Mashpee Neck
Mattapoisett Center
Maynard
Medfield
Medford
Melrose
Methuen
Middleborough Center
Milford
Millers Falls
Millis-Clicquot
Milton
Monomoscoy Island
Monson Center
Monument Beach
Nahant
Nantucket
Needham
New Bedford
Newburyport
New Seabury
Newton
North Adams
North Amherst
Northampton
North Attleborough Center
Northborough
North Brookfield
North Eastham
North Falmouth
Northfield
North Lakeville
North Pembroke
North Plymouth
North Scituate
North Seekonk
Northwest Harwich
North Westport
Norton Center
Norwood
Ocean Bluff-Brant Rock
Ocean Grove
Onset
Orange
Orleans
Oxford
Palmer
Peabody
Pepperell
Pinehurst
Pittsfield
Plymouth
Pocasset
Popponesset
Popponesset Island
Provincetown
Quincy
Randolph
Raynham Center
Reading
Revere
Rockport
Rowley
Rutland
Sagamore
Salem
Salisbury
Sandwich
Saugus
Scituate
Seabrook
Seconsett Island
Sharon
Shelburne Falls
Shirley
Smith Mills
Somerset
Somerville
South Amherst
South Ashburnham
Southbridge
South Deerfield
South Dennis
South Duxbury
South Lancaster
South Yarmouth
Spencer
Springfield
Stoneham
Sturbridge
Swampscott
Taunton
Teaticket
Three Rivers
Topsfield
Townsend
Turners Falls
Upton-West Upton
Vineyard Haven
Wakefield
Walpole
Waltham
Ware
Wareham Center
Warren
Watertown
Webster
Wellesley
Westborough
West Brookfield
West Chatham
West Concord
West Dennis
West Falmouth
Westfield
West Springfield
West Wareham
West Yarmouth
Weweantic
Weymouth
White Island Shores
Whitinsville
Wilbraham
Williamstown
Wilmington
Winchendon
Winchester
Winthrop
Woburn
Woods Hole
Worcester
Yarmouth Port
and every place in between across the Bay State!