Carports in Mississippi MS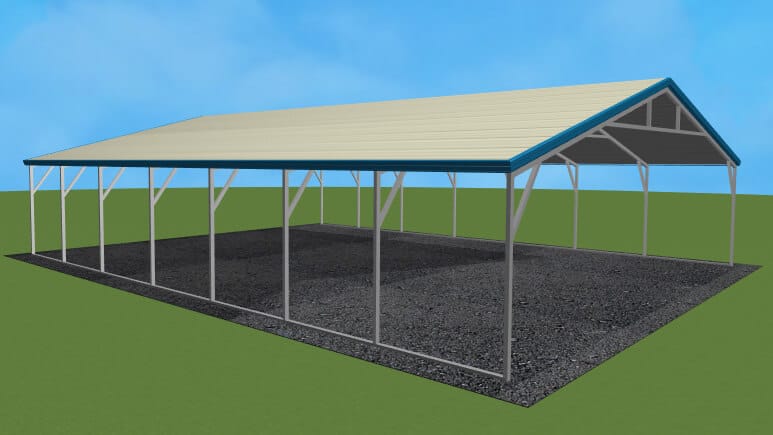 Are you a resident in the Magnolia State looking for a new source of protection or storage? You've come to the right place! Here at Carport Direct, we have a large selection of custom steel carports in Mississippi available for purchase. You can customize one to fit your every need AND your budget!
BUY THE BEST
METAL CARPORTS MISSISSIPPI
Applications for Prefab Metal Carports in Mississippi
While most people choose to use their carport as a designated parking area or equipment shelter, their purpose is much larger now. Whether your needs are personal, residential, or agricultural, they can be fulfilled with a custom steel carport from Carport Direct. If you would like some ideas on how to use these versatile structures, take a look at some of their possibilities below.
Animal Shelter
Event Shelter
Greenhouse/Gardening Area
Parking Space
Hobby Hut
If you've used one of our durable metal carports for a unique purpose or if you have a new idea, give us a call today. We would love to hear back from you!
Design A Mississippi Carport for All Your Needs

Here at Carport Direct, we understand how important it is that your Mississippi carport both looks and functions great. Afterall, the appearance of your unit is just as important as its overall functionality. However, ensuring you get exactly what you pay for can be difficult when you aren't sure how the structure will look once installed. With our online 3D Building Estimator, you can choose from our variety of customization options and design a metal carport to your exact specifications and requirements. These customizations include a variety of colors, roof styles, foundations, and many others. And once you've completed the design and layout of your structure, you can complete the order by submitting the initial deposit through the online tool.
Financing and Rent-to-Own at Carport Direct
No two customers are alike, and neither are their needs, so their Mississippi prefab carport shouldn't be alike either. And one thing is almost guaranteed – the price of your unit will not be the same as someone else's. But to make sure you get the carport you need, when you need it, for a price you can afford, we offer two of the best financing and rent-to-own programs in the industry. There are easy-to-fill forms found on our website for both of these payment plans, making the purchasing process as simple and stress-free as possible. If you would like to know more about how these programs work, feel free to reach out to our sales department today for assistance.
Unlike other companies in the metal building industry, we aren't about just selling you a metal building. We spend our time helping you find the ideal storage solution to your every need, no matter what they may be. With one of our Mississippi steel carports, you can rest assured knowing all your belongings will be safe and secure throughout the years. Give us a call today at (336) 415-3616 to speak with one of our expert building specialists.
Our Service Areas in Mississippi MS
Our Mississippi carport prices are good for the entire state of Mississippi, which includes
Abbeville
Aberdeen
Ackerman
Algoma
Alligator
Amory
Anguilla
Arcola
Artesia
Ashland
Baldwyn
Bassfield
Batesville
Bay St. Louis
Bay Springs
Beaumont
Beauregard village
Belmont
Belzoni
Benoit
Bentonia
Beulah
Big Creek village
Big Point
Biloxi
Blue Mountain
Blue Springs village
Bogue Chitto
Bolton
Booneville
Boyle
Brandon
Braxton village
Brookhaven
Brooksville
Bruce
Bude
Burnsville
Byhalia
Byram
Caledonia
Calhoun City
Canton
Carrollton
Carthage
Cary
Centreville
Charleston
Chunky
Clarksdale
Cleveland
Clinton
Coahoma
Coffeeville
Coldwater
Collins
Collinsville
Columbia
Columbus
Columbus AFB
Como
Conehatta
Corinth
Courtland
Crawford
Crenshaw
Crosby
Crowder
Cruger
Crystal Springs
Decatur
De Kalb
Derma
Diamondhead
D'Iberville
D'Lo
Doddsville
Drew
Duck Hill
Dumas
Duncan
Durant
Ecru
Eden village
Edwards
Ellisville
Enterprise
Escatawpa
Ethel
Eupora
Falcon
Falkner
Farmington
Fayette
Flora
Florence
Flowood
Forest
French Camp
Friars Point
Fulton
Gattman village
Gautier
Georgetown
Glen
Glendora village
Gloster
Golden
Goodman
Greenville
Greenwood
Grenada
Gulf Hills
Gulf Park Estates
Gulfport
Gunnison
Guntown
Hatley
Hattiesburg
Hazlehurst
Heidelberg
Helena
Hernando
Hickory
Hickory Flat
Hickory Hills
Hollandale
Holly Springs
Horn Lake
Houston
Hurley
Indianola
Inverness
Isola
Itta Bena
Iuka
Jackson
Jonestown
Jumpertown
Kilmichael
Kiln
Kosciusko
Kossuth village
Lake
Lambert
Latimer
Laurel
Leakesville
Learned
Leland
Lena
Lexington
Liberty
Long Beach
Louin
Louise
Louisville
Lucedale
Lula
Lumberton
Lyman
Lynchburg
Lyon
Maben
McComb
McCool
McLain
Macon
Madison
Magee
Magnolia
Mantachie
Mantee village
Marietta
Marion
Marks
Mathiston
Mayersville
Meadville
Memphis village
Mendenhall
Meridian
Meridian Station
Merigold
Metcalfe
Mize
Monticello
Montrose
Moorhead
Morgan City
Morton
Moss Point
Mound Bayou
Mount Olive
Myrtle
Natchez
Nellieburg
Nettleton
New Albany
New Augusta
New Hebron
New Hope
New Houlka
Newton
North Carrollton
North Tunica
Noxapater
Oakland
Ocean Springs
Okolona
Olive Branch
Osyka
Oxford
Pace
Pachuta
Paden village
Pascagoula
Pass Christian
Pearl
Pearlington
Pearl River
Pelahatchie
Petal
Philadelphia
Picayune
Pickens
Pittsboro village
Plantersville
Polkville village
Pontotoc
Pope village
Poplarville
Port Gibson
Potts Camp
Prentiss
Puckett village
Purvis
Quitman
Raleigh
Raymond
Redwater
Renova
Richland
Richton
Ridgeland
Rienzi
Ripley
Rolling Fork
Rosedale
Roxie
Ruleville
St. Martin
Sallis
Saltillo
Sandersville
Sardis
Satartia village
Saucier
Schlater
Scooba
Sebastopol
Seminary
Senatobia
Shannon
Shaw
Shelby
Sherman
Shoreline Park
Shubuta
Shuqualak
Sidon
Silver City
Silver Creek
Slate Springs village
Sledge
Smithville
Snow Lake Shores
Soso
Southaven
Standing Pine
Starkville
State Line
Stonewall
Sturgis
Summit
Sumner
Sumrall
Sunflower
Sylvarena village
Taylor village
Taylorsville
Tchula
Terry
Thaxton
Tillatoba
Tishomingo
Toccopola
Tremont
Tucker
Tunica
Tupelo
Tutwiler
Tylertown
Union
Utica
Vaiden
Vancleave
Vardaman
Verona
Vicksburg
Wade
Walnut
Walnut Grove
Walthall village
Water Valley
Waveland
Waynesboro
Webb
Weir
Wesson
West
West Hattiesburg
West Point
Wiggins
Winona
Winstonville
Woodland village
Woodville
Yazoo City
and every place in between across the Magnolia State!