Carports in Montana MT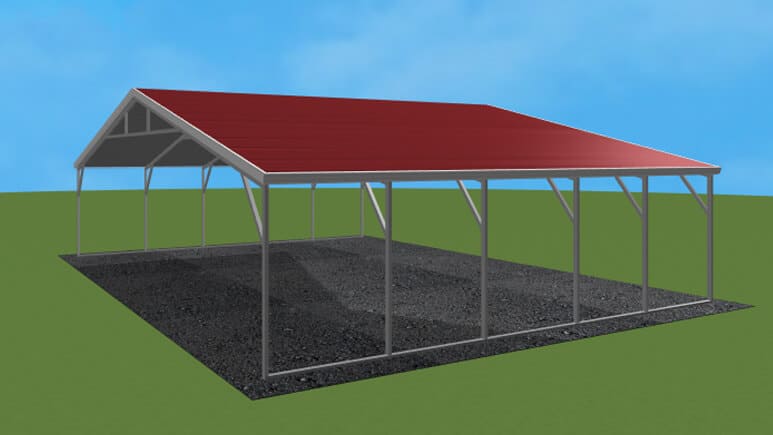 If you live in or have visited Montana, you already know how beautiful the state is. But no matter how beautiful, it's important that you keep your belongings protected from the varying weather conditions there. From the hot summer months, to the brutally cold winter months, one of our Montana steel carports can provide you with the proper amount of protection.
BUY THE BEST
METAL CARPORTS MICHIGAN
Daily Applications for Prefab Metal Carports in Montana
Living in the Big Sky Country, it's important that you can use your steel carport however you wish. Whether it's for personal needs, residential needs, or agricultural needs, one of these versatile structures from Carport Direct can fulfill a variety of purposes. And while we know you probably have an idea on how you'll use one of our Montana carports, we've listed a few of their accommodations below for inspiration.
Snow Gear Storage
Equipment Shelter
Outdoor Work Area
Gardening Space
Animal Shelter
Customize your Ideal Montana Carport

No matter what your dream carport may look like, we guarantee you'll get just that and so much more by partnering with us here at Carport Direct. With a 3D Building Estimator available on our website, you can have peace of mind knowing you can customize a steel carport to your exact specifications. Choose between a variety of colors, roof styles, size dimensions, foundation types, and other customizations to design the perfect carport for your needs. Once you've completed the design of your carport and have approved the 3D visual, you can submit your order on our website.
Financing and Rent-to-Own at Carport Direct
Here at Carport Direct, we want you to get the unit you need for a price you can afford, no matter your financial situation. With that being said, we understand how difficult it may be to spend such a significant amount of your hard-earned money on a structure you aren't sure fits within your budget. While we offer some of the low prices in the industry, we also provide two rent-to-own and financing programs. These forms of payment are easy, quick, and stress-free. You can find their applications on our website, as well as more information about their benefits.
If you're tired of seeing sunspots on the hood of your car or having snow accumulate on your equipment, contact our sales department today. We offer a large collection of prefab steel carports and other metal buildings to choose from here at Carport Direct, each fully customizable to your exact specifications. You can contact one of our sales representatives at +1 (336) 415-3616 or visit our website to learn more about what we have to offer.
Our Service Areas in Montana MT
Our Montana carport prices are good for the entire state of Montana, which includes
Absarokee
Agency
Alberton
Alder
Amsterdam-Churchill
Anaconda-Deer Lodge County
Antelope
Arlee
Ashland
Augusta
Avon
Azure
Bainville
Baker
Ballantine
Basin
Bearcreek
Beaver Creek
Belfry
Belgrade
Belt
Big Arm
Bigfork
Big Sandy
Big Sky
Big Timber
Billings
Birney
Black Eagle
Boneau
Bonner-West Riverside
Boulder
Box Elder
Bozeman
Bridger
Broadus
Broadview
Brockton
Browning
Busby
Butte-Silver Bow (balance)
Camp Three
Cardwell
Carter
Cascade
Charlo
Chester
Chinook
Choteau
Circle
Clancy
Clinton
Clyde Park
Colstrip
Columbia Falls
Columbus
Conrad
Cooke City-Silver Gate
Coram
Corvallis
Crow Agency
Culbertson
Custer
Cut Bank
Darby
Dayton
De Borgia
Deer Lodge
Denton
Dillon
Dixon
Dodson
Drummond
Dutton
East Glacier Park Village
East Helena
East Missoula
Ekalaka
Elliston
Elmo
Ennis
Eureka
Evaro
Evergreen
Fairfield
Fairview
Fallon
Finley Point
Flaxville
Florence
Forsyth
Fort Belknap Agency
Fort Benton
Fortine
Fort Peck
Fort Shaw
Fort Smith
Four Corners
Fox Lake
Frazer
Frenchtown
Froid
Fromberg
Gardiner
Garrison
Geraldine
Gildford
Glasgow
Glendive
Grass Range
Great Falls
Greycliff
Hamilton
Hardin
Harlem
Harlowton
Harrison
Havre
Havre North
Hays
Heart Butte
Helena
Helena Valley Northeast
Helena Valley Northwest
Helena Valley Southeast
Helena Valley West Central
Helena West Side
Heron
Herron
Highwood
Hingham
Hobson
Hot Springs
Hungry Horse
Huntley
Hysham
Inverness
Ismay
Jefferson City
Jette
Joliet
Joplin
Jordan
Judith Gap
Kalispell
Kerr
Kevin
Kicking Horse
Kings Point
Klein
Knife River
Kremlin
Lakeside
Lame Deer
Laurel
Lavina
Lewistown
Lewistown Heights
Libby
Lima
Lincoln
Livingston
Lockwood
Lodge Grass
Lodge Pole
Lolo
Loma
Lonepine
Malmstrom AFB
Malta
Manhattan
Martin City
Medicine Lake
Melstone
Miles City
Missoula
Montana City
Moore
Muddy
Musselshell
Nashua
Neihart
Niarada
North Browning
Noxon
Old Agency
Opheim
Orchard Homes
Outlook
Ovando
Pablo
Paradise
Park City
Parker School
Philipsburg
Pinesdale
Plains
Plentywood
Plevna
Polson
Poplar
Power
Pryor
Radersburg
Ravalli
Red Lodge
Reed Point
Reserve
Rexford
Richey
Riverbend
Rocky Point
Rollins
Ronan
Roundup
Rudyard
Ryegate
Saco
Saddle Butte
St. Ignatius
St. Marie
St. Pierre
St. Regis
St. Xavier
Sangrey
Scobey
Seeley Lake
Shelby
Shepherd
Sheridan
Sidney
Simms
Somers
South Browning
Stanford
Starr School
Stevensville
Sunburst
Sun Prairie
Sun River
Superior
Terry
Thompson Falls
Three Forks
Toston
Townsend
Trout Creek
Troy
Turtle Lake
Twin Bridges
Ulm
Valier
Vaughn
Victor
Virginia City
Walkerville
Westby
West Glendive
West Havre
West Yellowstone
Whitefish
Whitehall
White Sulphur Springs
Wibaux
Willow Creek
Wilsall
Winifred
Winnett
Winston
Wisdom
Wolf Point
Woods Bay
Worden
Wye
Wyola
and every place in between across the Treasure state!