Carports in New York NY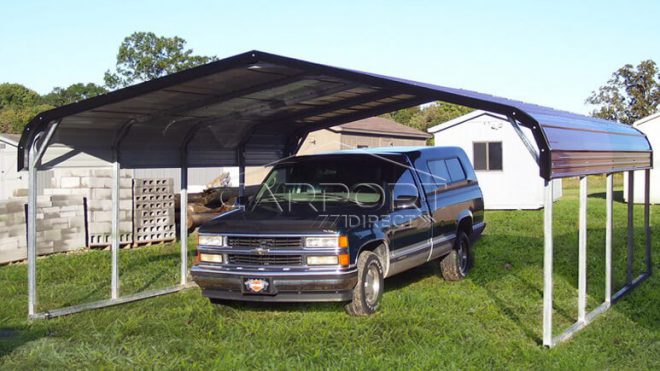 New York metal carports are a great alternative to more expensive construction methods that don't produce better buildings. Many New Yorkers also like the advantage of being able to install a metal carport in close proximity to their house to provide convenient storage while conserving available space. If you live in the Empire State and want to protect your cars, RV's, trucks, boats, and other belongings from the sometimes-unpredictable New York weather, then a metal carport is the way to go. As you know, New Yorkers can be subjected to sunshine, rain, snow, sleet, and wind … sometimes all on the same day! These kinds of conditions can wreak havoc on your car, truck, RV or motorcycle.
BUY THE BEST
METAL CARPORTS New York
Metal Carports in NY
Carport Direct delivers and installs carports in all areas of the state. And the best part? There's NO extra charge for delivery or installation! We can install your carport on ground, gravel, asphalt, or concrete across the Empire State. Our buildings are certified for 65 PSF snow load, which is a requirement in most parts of the state. We also recommend opting for our stronger 12 GA tubing material in New York areas that receive the heaviest snowfall, like Syracuse, Rochester, Buffalo, and the greater Adirondacks area.
Carport Direct knows that every need is different, and each of our customers is important to us. Whether you want a carport building for your home or business, Carport Direct can help you find (or design!) the right New York carport for you! Our prices are among the lowest, we offer the best lead times, AND we work hard to make your buying experience a pleasant one.
What Carport Widths Are Available in NY?
Carport Direct offers carports in three different width ranges:
Our standard carports are 12'-24' wide
Our triple-wide carports are 26'-30' wide
Our commercial carports are 32'-60' wide
These building widths are available with different configurations, as well. For example, there is a center brace on every leg with the standard carports. However, you can choose a truss upgrade, and you can also add extra bows. Adding extra bows means that the carport legs will be closer to each other, improving the structural strength, load capacity, and anchoring for your metal structure. The triple-wide carports and commercial carports come with a truss for extra support and weather resistance. You can also choose to add gables or extended gables to the ends to give you more covered space and to give your New York carport or garage a better curb appeal.
How Long Are Steel Carports in New York?
Standard length starts at 21' and goes up in 5′ increments – we can extend all the way out to 300' long if you want! You also have your choice of colors for the roof, trim, and wall paneling (if any). And if your carport or carport garage will be 36' or longer, we strongly recommend going with a vertical style roof. You can easily play with dimensions, styles, and customization options on our easy-to-use custom estimator on Carport Direct. We do more than just carports, too; we can provide utility carports, combo buildings, fully-enclosed garages, workshops, warehouses, and more across the state of New York.
Certified NY Carports
As stated above, the snow-laden winter months of New York can be tough on an inferior outdoor structure. But you should be able to think of your carport as a reliable place to keep your vehicles and belongings protected. That's why Carport Direct offers wind and snow load certification options for our NY carports. Choosing a certified carport costs just a little more upfront, but the peace of mind it provides over time is something that money can't buy. We provide standard 14-gauge galvanized steel tube framing with the option for sturdier 12-gauge steel framing, and we also give you the option of choosing either standard 29-gauge metal sheeting or sturdier 26-gauge metal sheeting.
Our Service Areas in New York NY
And if you're buying a carport, RV cover, or other metal structure in New York, please check with your local NY authorities to learn about any restrictions, ordinances or permits that may be needed prior to installation!
We cover both large cities and small towns across the state of New York, including:
Albany
Allegany
Bronx
Broome
Cattaraugus
Cayuga
Chautauqua
Chemung
Chenango
Clinton
Columbia
Cortland
Delaware
Dutchess
Erie
Essex
Franklin
Fulton
Genesee
Greene
Hamilton
Herkimer
Jefferson
Kings
Lewis
Livingston
Madison
Monroe
Montgomery
Nassau
New York
Niagara
Oneida
Onondaga
Ontario
Orange
Orleans
Oswego
Otsego
Putnam
Queens
Rensselaer
Richmond
Rockland
Saratoga
Schenectady
Schoharie
Schuyler
Seneca
St. Lawrence
Steuben
Suffolk
Sullivan
Tioga
Tompkins
Ulster
Warren
Washington
Wayne
Westchester
Wyoming
Yat