Carports in Maine ME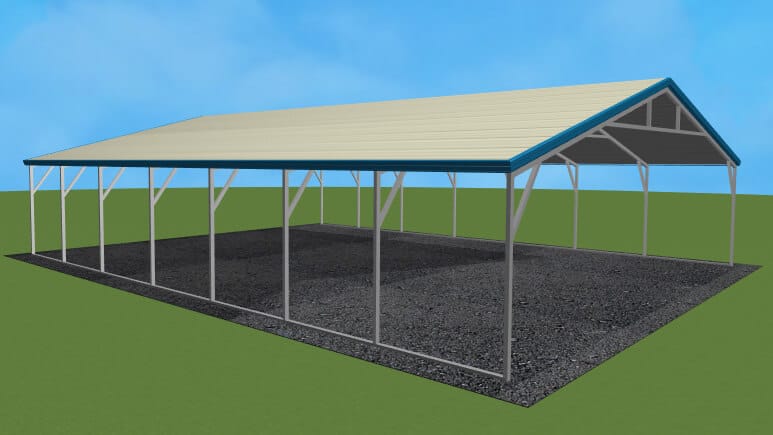 From visiting the Portland Head Lighthouse, to hiking Mount Katahdin, to skiing at Sunday River Resort, there's plenty to do in the Pine Tree State. And with so many adventures to take part in, it's possible that you've accumulated quite a bit of stuff throughout the years. But with a steel carport in Maine, you'll never have to worry about running out of storage space!
BUY THE BEST
METAL CARPORTS MAINE
Applications for Maine Prefab Metal Carports
Despite history and common belief, carports are no longer being used as simple shelters for vehicles and outdoor equipment. Rather, they have a much wider variety of practical and unique applications. No matter if they're personal, residential, or agricultural, your needs will always be met with one of these versatile steel structures. A few of their possible applications are listed below:
Outdoor Retreat
Boat Cover
Shelter for Family Get Togethers
Poolside Cabana
Event Area
Custom Design Your Steel Carport in Maine
It can be difficult to invest a significant amount of your hard-earned money into a Maine carport, especially when you aren't sure that you'll be getting everything you're paying for. But with our online 3D Building Estimator at Carport Direct, you can rest assured knowing you'll be getting exactly what you need, want, and more. With this tool, you can choose your preferred features and watch them come to life with a 3D model. And once you've completed the design and layout of your steel carport, you can complete the order and submit your payment with the Estimator. Oh, and did we mention that you can do all this from the comfort of your home? That's right, you don't even have to leave your house!
Finance or Rent-to-Own Your Maine Carport
No matter what your current financial situation may be, we know how important it is that the price of your product stays within your financial limits. And while we offer some of the most affordable prices buildings in the industry, we also understand that everyone could use a little assistance. Here at Carport Direct, we provide two of the best financing and rent-to-own programs offered by a metal building company. These payment plans are easy, quick, and stress-free, ensuring you get exactly what you need, when you need it, for a price you can more than afford.
Here at Carport Direct, we care more about providing you with a reliable source of shelter than just selling you a metal building you may or may not need. In addition to our passion for helping others, we're also well-known for our fine products, quality customer service, and affordable prices. If you'd like to know more about our services and products, feel free to reach out to us today at (336) 415-3616 to speak with one of our friendly building specialists.
Our Service Areas in Maine ME
Our Maine carport prices are good for the entire state of Maine, which includes
Anson
Auburn
Augusta
Bangor
Bar Harbor
Bath
Belfast
Berwick
Biddeford
Bingham
Boothbay Harbor
Brewer
Bridgton
Brunswick
Brunswick Station
Bucksport
Calais
Camden
Cape Neddick
Caribou
Chisholm
Clinton
Cumberland Center
Damariscotta-Newcastle
Dexter
Dixfield
Dover-Foxcroft
East Millinocket
Eastport
Ellsworth
Fairfield
Falmouth Foreside
Farmingdale
Farmington
Fort Fairfield
Fort Kent
Freeport
Fryeburg
Gardiner
Gorham
Greenville
Guilford
Hallowell
Hampden
Hartland
Houlton
Howland
Kennebunk
Kennebunkport
Kittery
Kittery Point
Lake Arrowhead
Lewiston
Limestone
Lincoln
Lisbon Falls
Little Falls-South Windham
Livermore Falls
Loring AFB
Machias
Madawaska
Madison
Mars Hill-Blaine
Mechanic Falls
Mexico
Milford
Millinocket
Milo
Newport
Norridgewock
North Berwick
North Windham
Norway
Oakland
Old Orchard Beach
Old Town
Orono
Oxford
Pittsfield
Portland
Presque Isle
Randolph
Richmond
Rockland
Rumford
Saco
Sanford
Scarborough
Searsport
Skowhegan
South Eliot
South Paris
South Portland
South Sanford
Springvale
Thomaston
Topsham
Unity
Van Buren
Waldoboro
Waterville
Westbrook
West Kennebunk
Wilton
Winslow
Winterport
Winthrop
Wiscasset
Woodland
Yarmouth
York Harbor
and every place in between across the Pine Tree State!