Carports in Vermont VT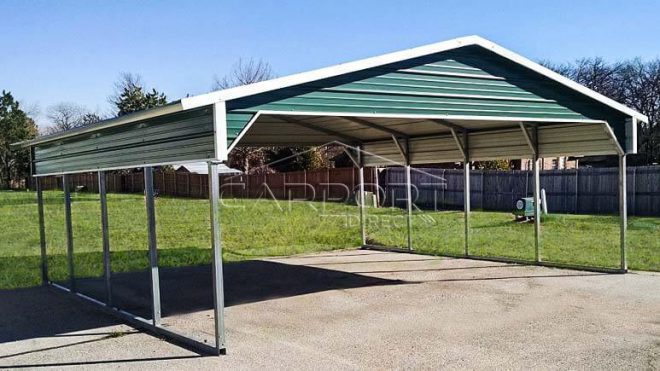 Carports in Vermont are available in different sizes, roof styles, and leg heights to meet your needs. When the residents of Vermont think of a metal carport, they may be thinking of a small one-car or two-car shelter that protects their cars from the sun, snow, and other weather elements. While it is true that carports can protect cars, trucks, boats, RVs, trailers, and motorcycles, our VT carports can be used for much more than just sheltering your vehicles!
Carport Direct offers carports in different widths, lengths, and styles for various applications. Our Vermont customers have used their carports, garages, metal buildings, barns, and commercial buildings for a variety of purposes. Our VT carports can be used as hobby buildings, she-sheds, man caves, small business buildings, hay stack units, horse barns, warehouses, and more. Our carports fit all these purposes very well, for residential, commercial, industrial, or agricultural uses.
BUY THE BEST
METAL CARPORTS Vermont
Certified Steel Carports in Vermont
Our steel carports in VT are available in many different sizes starting in a single carport or single garage at 12'x21' with widths available up to 70 feet. Lengths start at 21′, and go up by 5′ increments to whatever length you need. We also offer a 12 GA galvanized tube frame option that is a stronger option than the standard 14 GA material – we're happy to provide both choices to our Vermont customers. Our VT carports can also be certified to meet wind and snow load requirements to meet any local building codes. Our buildings can be certified for ground snow loads of up to 90 PSF, if your area requires it. That makes our light-gauge steel buildings the safest and strongest you'll find anywhere.
Our vertical style roof carports are the best option for long, snowy Vermont winters, as snow and debris flows off the roof panels much more easily. This makes your quality carport more functional, and almost maintenance-free.
Here are some of the types of carports and metal structures we can install in Vermont:
Outdoor Motorcycle Storage
RV Shelters (13-16' tall carports with a panel by default on both sides)
30', 40', and 50' wide commercial metal buildings
Small one car carports
Parking areas for multiple vehicles
Handy sheds
Metal Storage Buildings
Side Entry Garages and Carports
Boat Storage Sheds
Horse Barns
Farm Buildings
Triple Wide Carports
Residential Style Garages
If you're in the market for an RV cover, then look no further. Carport Direct can provide the best camper and motorhome covers. We know that RVs come in all shapes and sizes, and that makes it all the more important to choose the right steel RV cover for your vehicle. We have a special place in our heart for Vermont RV owners!
How do you know you can feel confident about the quality of our RV carports in VT?
We anchor your metal RV cover to the ground, asphalt, gravel or concrete at no extra charge, and your RV cover is delivered to you without any extra charge.
There's a 20-year rust-through warranty on the metal framing on all RV garages for either the 14-gauge tubing or optional 12-gauge tubing. 12 GA framing is a sturdier choice, as it is better designed for rough weather and remains strong and reliable for many years to come.
Optional mobile home anchors can help create certified RV carports rated for higher winds in some parts of VT.
Each carport or metal structure comes with a 10-year warranty for paneling, and a 1-year workmanship warranty from the date of installation.
For farming and agricultural needs in VT, we can also provide you with lean-to buildings constructed with custom configurations. Some of the available options include an open carport lean-to, one with its center closed and the lean-to open, the center open and the lean-to closed, or a fully-enclosed lean-to structure. These lean-to buildings can be used for farm storage, equestrian purposes, and much more!