Tennessee Carports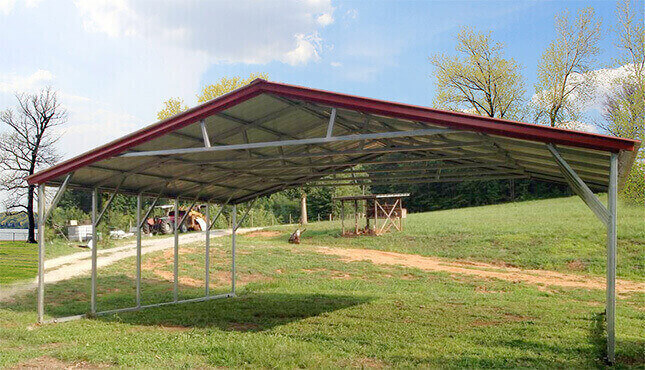 Carport Direct offers metal carports, RV covers, utility carports, fully-enclosed garages, triple-wide carports, horse barns, classic barns and commercial metal buildings for sale across the great state of Tennessee. We provide delivery & installation for our Tennessee metal carports & garages at no additional charge, unlike other companies that only quote carport kit prices but then charge you for the installation or delivery, or both.
Our quality carports protect your car, truck, RV, or boat with strong, durable steel. Don't let the Tennessee weather elements hurt the longevity of your vehicles or equipment!
BUY THE BEST
METAL CARPORTS Tennessee
Steel Carports in Tennessee TN
When it comes to steel carports in Tennessee, we offer many styles, sizes, and customization options. We have a huge selection of carport designs that will satisfy the unique needs of any of our Tennessee customers. We know you paid a lot for your beloved car or truck, and you really don't want to leave it out in the open. Prolonged exposure to sun and storms can destroy your paint and cause other damage to your vehicles as well. Older or classic cars can actually rot from the inside due to overexposure. A metal structure is a great way to protect your vehicles and belongings, as well as help increase your overall property value.
Buy Your Carport Online in Tennessee
Carport Direct is an online metal carport dealer that can offer you the benefits of buying direct. What does "direct" mean? Direct means you are buying from us at the low prices. We only source the best-quality buildings, and our delivery lead times are typically much better than those of our competitors. Unlike some dealers, we actually follow up throughout the process to make sure your building actually gets delivered and installed in a timely manner!
Buying direct from Carport Direct also means that we allow you the freedom to research, design, evaluate, and customize your metal carport structure on your own. No pushy salespeople or gimmicks here – only helpful building specialists who are only a chat or a phone call away when you need us. You're welcome to shop away on your own, or we can provide help and guidance at any point during your carport buying process. There may be other local or online carport kit dealers in Tennessee who are more than happy to sell you something, but few companies will come alongside to offer amazing options, reasonable prices, excellent advice, and quick delivery.
We sell more than just TN carports, too. With a complete range of barns, utility garages, all-vertical metal buildings, enclosed steel buildings, storage sheds, carport shelters, and commercial metal buildings, Carport Direct can get you the outdoor structure that perfectly complements your needs. Our standard carports can be used as one-car or two-car garages, and our triple wide buildings range from 26' to 30' feet wide. Many of our customers like to choose a side-entry garage for 3 or more cars due to their ease of access. Side-entry garages offer a great economical solution and can be used for multiple purposes.
For Tennessee businesses, Carport Direct offers amazing commercial buildings with maximum available clear span space. We can provide:
30' x 30' metal building with 900 sq. feet of clear span
30' x 40' metal building with 1200 sq. feet of clear span
30' x 50' metal building with 1500 sq. feet of clear span
40' x 40' metal building with 1600 sq. feet of clear span
40' x 50' metal building with 2000 sq. feet of clear span
50' x 50' metal building with 2500 sq. feet of clear span
Or you can go bigger still!
Please note that the above clear span dimensions are only a sample. Tell us how much space you need, and we can build to your specifications. We can help you custom design a metal building to suit your needs. Many of our farm, commercial, and industrial customers have used our metal buildings across many industries and applications. Our buildings can save you money when compared with traditional pre-engineered metal buildings. Our metal structures also require little maintenance and can meet higher wind and snow ratings.
Best Collection of Metal Carports and Structures with Easy Customization
If you like variety, then Carport Direct has something for you in TN. Need something more than a roof-only structure? You can add more panels, close one or more sides, even create a fully-enclosed garage if you so choose. If you need a carport in Knoxville, a garage in Nashville, an RV cover in Memphis, or a workshop in Chattanooga, we've got you covered. Our buildings come in several different color options and styles, including either the regular, boxed-eave, or vertical roof style. The vertical roof is the premium choice, as the sheeting is oriented top-to-bottom, allowing rain and snow to slide more easily off your roof and away from your building. The vertical carport or garage is the best choice for residents of the Volunteer State.
While you may think of Tennessee as having milder weather, it actually has one of the highest percentages of total tornadoes resulting in fatalities. Winter storms can also sometimes be a challenge too, dumping several inches of snow at a time. With this kind of variable weather, you need tough barns, sheds, carports and garages to protect your cars and trucks, tools, tractors, lawn mowers, and animals.
Our Service Areas in Tennessee TN
Carport Direct covers all of Tennessee and its counties, including
Anderson
Bedford
Benton
triplewide carports in Bledsoe
Blount
Bradley
Campbell
Cannon
Carroll
Carter
garages in Cheatham
Chester
double carports in Claiborne
Clay
horse barns in Cocke
Coffee
Crockett
Cumberland
Davidson
Decatur
DeKalb
steel garages in Dickson
Dyer
Fayette
Fentress
Franklin
Gibson
Giles
metal carports in Grainger
Greene
Grundy
Hamblen
Hamilton
Hancock
metal utility sheds in Hardeman
Hardin
Hawkins
Haywood
Henderson
Henry
Hickman
RV storage in Houston
Humphreys
Jackson
Jefferson
Johnson
Knox
Lake
boat storage in Lauderdale
Lawrence
Lewis
Lincoln
Loudon
McMinn
steel buildings in MeNairy
Macon
Madison
Marion
Marshall
Maury
Meigs
utility buildings in Monroe
Montgomery
Moore
Morgan
Obion
Overton
Perry
tool sheds in Pickett
Polk
Putnam
Rhea
Roane
Robertson
Rutherford
Scott
carports and garages in Sequatchie
Sevier
Shelby
Smith
Stewart
Sullivan
Sumner
Tipton
Trousdale
Unicoi
Union
Van Buren
Warren
Washington
Wayne
Weakley
White
Williamson
and Wilson