Carports in South Carolina SC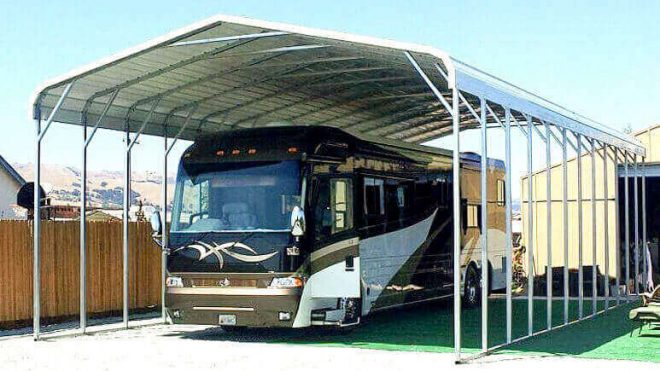 South Carolina residents enjoy warm weather through a good part of the year. This can be a good thing, but it also brings along an average of 50 days of thunderstorms and 14 tornadoes every year. Hail is fairly common with many of the stronger thunderstorms that cross SC as well. There's lots of beautiful sunshine here, but sometimes those rays can get a little harsh too, especially in the summer months.
The sun's rays are necessary for life, but over time they can also cause damage to your car, truck, boat, RV, or other vehicle. The often humid conditions in SC can lead to damage and decay, too. Factor in the rains and storms, and you'll soon realize that leaving your cars, trucks, boats, RVs, motorcycles, or other equipment out in the open is really not a good idea. If you're ready to better protect your cars, trucks, RV's, boats, ATV's and equipment, then you've come to the right place for South Carolina!
BUY THE BEST
METAL CARPORTS South Carolina
Buy Your Carport Online in SC
Carport Direct is for people who like to make their own decisions. No pushy sales people or stiff-arming here! Instead, we provide direct manufacturer pricing, an almost endless combination of customization options and Carport Direct's amazing team of the best-trained building specialists. We're not pushy, but we're always here to help you when you need us!
Many of our customers search for 30-wide, 40-wide, 50-wide, even 60-wide buildings. Carport Direct can help with that! We offer metal structures up to 70' wide across the entire state of South Carolina. We cover every area of SC, and we deliver and install your building at no extra charge! If you're an individual or business looking for some extra clear span space, Carport Direct is the number one choice for metal buildings in South Carolina. We make more than just SC carports, too; we can design barns, lean-tos, open garages, enclosed garages, utility carports, service centers, car repair shops, warehouses, and much more. No need to worry about having to install it yourself, either. Unlike most pole barns, Carport Direct metal buildings are delivered and installed for no additional cost. All you must do is make sure your site is leveled and ready beforehand. We can install your building on most any surface, including ground, gravel, asphalt, or concrete.
Carport Direct offers quality carports and metal structures for South Carolina residents and business owners that are practical, reliable, and economical. We can provide 2-car, 3-car, 4-car, and 5-car garages. Our side-entry garages are perfect for residential usage, and you can opt to add more storage space to keep any additional items safe and secure, helping to make your house more clutter-free. Our metal buildings have a 20-year rust through warranty on the framing and a 10-year warranty on paneling. Many other carport companies in South Carolina will try and mimic what we offer, but they can't deliver on their promises. We walk the talk, and we take care of all our customers. Carport Direct is dedicated to providing the best customer service, and our passion is to really help people.
Our carports start at widths of 12' but can be designed to accommodate multiple vehicles. Our carport lengths start at 21' and can be increased in increments of 5' to whatever length you need. Our carport heights start at 7 feet and can go as tall as 20 feet. Customers like to use our taller carports and barns to house their RVs, motorhomes, buses, and other vehicles. For buildings that are above 15 feet tall, laced legs are a default option. Our South Carolina carports are designed with 14 GA galvanized steel tubing, but you can also choose to upgrade to the heavier 12 GA for even more added protection. The 12 GA carports are stronger and are better suited for meeting higher wind and snow loads.
Our Service Areas in South Carolina SC
Our South Carolina carport prices are good for the entire state of South Carolina, which includes
Abbeville, SC
Aiken, SC
Anderson, SC
Barnwell, SC
Beaufort, SC
Cayce, SC
Charleston, SC
Clemson, SC
Clinton, SC
Columbia, SC
Conway, SC
Cross Hill, SC
Darlington, SC
Easley, SC
Florence, SC
Forest Acres, SC
Fort Mill, SC
Gaffney, SC
Garden City, SC
Georgetown, SC
Goose Creek, SC
Greenville, SC
Greenwood, SC
Greer, SC
Hanahan, SC
Hartsville, SC
Hilton Head Island, SC
Lancaster, SC
Lexington, SC
Little River, SC
Mauldin, SC
Mount Pleasant, SC
Myrtle Beach, SC
Newberry, SC
North Augusta, SC
North Charleston, SC
North Myrtle Beach, SC
Orangeburg, SC
Rock Hill, SC
Seneca, SC
Simpsonville, Spartanburg, SC
Summerville, SC
Sumter, SC
Union, SC
West Columbia, SC
York, SC
and every place in between across the Palmetto State!